Celebrate 2012 Mothers Day in Clark, Pampanga; enjoy special discount for wine at Clark Wine Center
For residents of Manila planning to travel out of town to the north to treat mom to a short getaway from the city, famous wine shop Clark Wine Center is offering special discounts to help you celebrate 2012 Mothers Day in Clark, Pampanga.
Residents of Pampanga should think about treating their mothers to relax and unwind after dinner the Magnum Room Wine Lounge in Mimosa, Clark. Here, mom (and dad) can enjoy good bottle of fine vintage wine selected from the award winning restaurant wine list, the only one in the Philippines that earned the elite Best of Awards of Excellence award from world renowned magazine Wine Spectator.
Wine lovers may want to take advantage of Mothers Day celebration to pick up some bottles of fine vintage wine from the highly celebrated wine shop called Clark Wine Center. This wine shop is located along the main highway, M A Roxas entering Clark either from Angeles City or via the Subic Clark Tarlac Expressway or ScTex. It is here in this large wine shop that vintage wines not available anywhere in Manila or even other major Asian cities can be found.



Examples of Special Mothers Day Discount at Clark Wine Center
2009 Château Tuilierie, AOC Bordeaux
Regular Price: php 1,100 Mothers Day Price: php750
32% Discount
2009 was generally regarded as one of the greatest vintages in Bordeaux. Along with 2005 and 2000, these vintages command unprecedented prices because they are not only very appealing and thoroughly impressive now, these wines can age beautifully over the next few decades.
Wine lovers will do well to buy a case of the 2009 Château Tuilierie, enjoy some of them this year and stash some away to enjoy a few each year over the next few years to come.

2009 Nero d'Avola Vendemmia Loggia del Sole Sicilia
Regular Price: php 1,100 Mothers Day Price: php870
20% Discount
Sicily is not only famous for beautiful landscape and Hollywood's legendary Corleone family but also for their full-bodied, fruit-forward red wine made from the indigenous grape variety called Nero d'Avola. This Italian red wine offers fans of new-world red wine a more elegant and attractive option, one that pairs better with food, especially with savory Asian cuisine.
The 2009 vintage is a blessing for most wine regions in Europe and Sicily did not miss the boat either. This Nero d'Avola is charming already and will continue to please our palates for several more years.

2008 Chianti Classico Chiantigiane Loggia del Sole
Regular Price: php 1,700 Mothers Day Price: php1,100
35% Discount

Tuscany's pride and joy – Chianti Classico – is not only a legendary icon in the world of wine but also a source of pride for wine producers of Italy. Fallen from grace during the 60s and 70s, when the Chianti name was tarnished by lesser producers who raked in illegitimate profits by selling inferior wine under that famous brand, the advent of the "Classico" designation put a stopper to this loophole.
Today the black rooster insignia on the label of every legitimate bottle of Chianti Classico guarantees the high quality that once made Chianti one of the most sought after and highly respected red wines in the world.
This 2008 vintage is starting to mature and will continue to be attractive while improving slowly inside the bottle over the next five years or more. This is an excellent investment so for wine lovers with room for a few more bottles in the ref or the cellar, it might be wise to take advantage of this super discount to grab a case or two now.
1983 Château Tourans, Grand Cru Classé, St. Emilion, Bordeaux
Regular price: Php3,600 Mothers Day Price: php 2,500
30% Discount

Fine vintage wine is what this wine shop in Pampanga is well known for among wine lovers of Manila, Subic, Pampanga and other parts of the Philippines. Even wine lovers from faraway places like Hong Kong, Japan and Malaysia make it a point to pick up some bottles at Clark Wine Center whenever they visit the Philippines.
At nearly 30 years of age, the 1983 Château Tourans is exuding the charm and elegance of maturity. This is one of those wines that connoisseurs seek out to enjoy in the privacy of a cozy dinner composed of delicate dishes. Fine vintage wines from Bordeaux are what all wine lovers hope to seek out but unfortunately they are hard to find in Asia which is still very young when it comes to wine collection.
This wine will drink nicely for at least a few more years. There are not many bottles left so those who love matured vintage wines from France might do well to grab more than one bottle, in case they take a fancy to it.

1986 Château Grand Pey Lescours, Grand Cru Classé, St. Emilion
Regular price: php 3,900 Mothers Day Price: php3,200
18% Discount

1986 is now generally regarded as one of Bordeaux's greatest vintages in modern history, comparable and often overshadowing the more illustrious but rather over-rated 1982 vintage. In all fairness, 1982 was truly a remarkable vintage not only because the wines were spectacular but also due to the fact that it marked the turning point of French wine-making from old to new style.
1986 produced wines that are remarkably sturdy, well-balanced, full-bodied and robust. These wines will outlive many of the younger ones from the decades of the 90s and the 2000s. Unfortunately most of the wines from this vintage were consumed far too early leaving very few bottles of this vintage for us to enjoy at their prime.
Again a connoisseur's choice, this 1986 St. Emilion Grand Cru Classé will drink very nicely for many more years. It is also a great wine to enjoy with steak and other red meat.
1999 Chablis Vaillon 1er Cru, Lamblin & fils
Regular price: php 2,900 Mothers Day Price: php2,300
20% Discount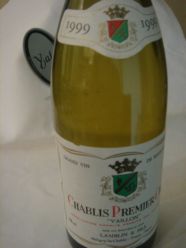 The premier crus of Burgundy represent some of the finest wines to come out of that illustrious wine region. The red wines are considered to be unparalleled in their rendition of the Pinot Noir varietal. The white wines which use 100% Chardonnay are sought after by connoisseurs.
Chablis has almost maintained its purity in style. It is considered by most to be the benchmark for classic white wines of France. They are exceptionally age-worthy as some 30- or 40-year-old bottles show us today.
This Vaillon 1er Cru is starting to display the elegance that has eluded those wine lovers who could not resist the temptation of uncorking these fine white wines before they have reached their prime. Although they must have been really enjoyable even in youth, it is a real treat to enjoy these excellent white wines in a matured state. This wine should go extremely well with shell fish and some of the savory and even spicy Chinese cuisine.
1999 Meursault, Chateau De Guettes, Francois Parent
Regular Price: php 5,300 Mothers day Price: php 4,200
20% Discount

Meursault is probably one of the most famous names in high-end white wines. These wines are revered by connoisseurs and collectors at all levels. There are good reasons for this. Although a Meursault white wine is almost always very appealing and easy to appreciate, it is surprisingly complex with age, as this 1999 vintage would prove. Meursault white wines are never cheap but despite the price tags they are rarely found in abundance anywhere in the world. Obviously wine lovers know how good these wines are. Collectors also know of their propensity to improve with long-term ageing also.
This is a medium-full-bodied white wine which places it fuller than most other white wines from the old world regions. Like all high-end white wines of Burgundy, this Meursault is made entirely from chardonnay grown in places with cold and difficult climates. 1999 was a classic vintage for Burgundy, also for its red wines.
Good with all sorts of seafood, one can enjoy this full-bodied white wine with a variety of dishes involving white meat and poultry. It is also a real treat to enjoy it with some of the famous French cheeses like Camembert and Chaumes.
NV MUMM Napa Valley Sparkling Wine
Regular Price: php 2,700 Mothers Day Price: php2,100
20% Discount

Discounts are far and few in between when it comes to Champagne and Sparkling wine simply because they are really very costly to produce. MUMM is a famous Champagne house in the class of Moet and Roderer. All of these legends have established wineries in other major wine regions where they apply their skills, knowledge and experience to making Champagne-like sparkling wines.
This Cuvee Napa Valley Sparkling wine is remarkably complex for a house wine – non-vintage bottling represents the style of the Champagne house. It is dry but quite a bit more friendly and appealing than the class MUMM Champagne which appeals greatly to connoisseurs.
Enjoy this MUMM Cuvee Napa on its own or with all sorts of cold cuts and seafood. Of course, the classic pairing would be fresh ripe strawberries.



NV Paul Bara, Grand Cru, Bouzy, Brut, Champagne
Regular Price: php 3,700 Mothers Day Price: php3,100
16% Discount


The term "Growers' Champagne" might not be as well known in Asia as it is in Europe. It refers to a genre within the Champagne category that describes genuine and classic Champagne made by those who actually grow the grapes themselves. In the Champagne region that practice was almost not in existence in the past. Vineyards sell all their grapes to the mega-houses like Moet, Billecart and Hiedseck which use these grapes to craft a wine that complies with the "house" style.
Growers Champagnes are much more terroir driven and exude more individualism than their branded and more famous counterparts. Despite their rarity which is probably caused by their lack of financial means to publicize their products, Champagne lovers seek out their wines because they are complex and often more exciting to drink.
This Paul Bara Champagne comes from the best vineyards in the region which are accorded the top-ranking Grand Cru classification. The style of Paul Bara is similar to other growers' Champagne – down-to-earth, complex, deep and robust. It is a food wine meaning that it can be enjoyed as a dinner wine and not just a cocktail or an aperitif. These wines are very sturdy and they tend to drink beautifully for many years after bottling.

Duval-Leroy Champagne, Cuvee 2000 Brut
Regular Price: php 6,200 Mothers Day Price: php5,300
15% Discount


The famous Champagne house of Duval-Leroy made this special cuvee to commemorate the new millennium. It is one of the most "attractive" wines that this house has turned out, a style that does not necessarily comply with their customary approach to crafting out more intense versions of Champagne.
The Cuvee 2000 Champagne is a crowd pleaser but it is by no means a simple-minded wine. Having seen some bottle age, this Champagne is showing us how Champagne can be a remarkably complex wine underneath the fizz. Judging from its freshness, this Champagne would continue to please us for many years to come, so laying down a few bottles for future special occasions seem a perfectly good idea.

There are over 2000 selections of wine from all the major wine regions of the world in the Clark Wine Center. If you feel that you don't have the time to browse through the five cellars of this wine shop in Clark, Pampanga, you can contact them in advance to narrow down the search a little.
Click here to contact Clark Wine Center now.
Please visit this web site for more information about this fine wine shop in Clark, Pampanga, Philippines.
http://www.ClarkWineCenter.com

Corkage fees are waived at leading restaurants and certain fine establishments in Clark and Angeles City for bringing in a reasonable quantity of wines purchased at the Clark Wine Center. Please keep the receipt to show proof of purchase.
Wine lovers who wish to know more about wine might want to visit this web site:
strong>http://www.YatsWineCellars.com

Clark Wine Center
MA Roxas Ave corner A Bonifacio Ave,
Clark Freeport, Pampanga, Philippines 2023
(045) 841-4006 0922-870-5173 0917-826-8790 ask for Ana Fe


Getting to this wine shop in Angeles City Clark Philippines
Getting to Clark Wine Center is quite simple:
after entering Clark Freeport from Dau and Angeles City, proceed straight along the main highway M A Roxas. Clark
Email: Wine@Yats-International.com

In addition to playing the role of the largest wine shop near Manila Philippines, Clark Wine Center also holds frequent wine events, wine tastings, wine parties, family days and other social and corporate functions and events. This wine shop is also a popular event venue.
Public wine tastings are held from time to time in Angeles City Pampanga Clark Philippines and sometimes in Manila also. Tickets range from p750 to p1500 for these themed events that are professionally run here at the best wine shop in Pampanga. At Clark Wine Center, public wine tasting events are aimed at helping wine lovers enrich their knowledge of wine so no wine merchants sponsorship, pushy salesmen or tacky banners are present because any sales activity might ruin the evening for wine enthusiasts. Each ticket to these wine tasting events contains a certain number of stubs that can be redeemed for a tasting pour of a wine of choice among those on a line-up. Very often, the lineup contains wines that are quite old and expensive. These wine tasting events are a very cost-effective means to explore new options and expand our knowledge of wine through first-hand encounters. Generally regarded as the best wine shop in Angeles City and Clark Pampanga, residents of Manila, wine lovers in Subic, Tarlac and Baguio travel to Clark Philippines to attend these wine tastings. Many bring home some good bottles to enjoy with dinner at home or in good restaurants.
Wine Seminars have been conducted in the past and may be offered from time to time to the delight of the more serious wine lovers. These seminars deal with intermediate to advanced subject matters that are aimed at providing useful and practical knowledge for the wine enthusiasts.

Each year, world leading wine and dining magazine called Wine Spectator gives out a special award to restaurants offering the best wine selections. The Best of Awards of Excellence is given out to 800 of the best restaurants worldwide. Here in the Philippines, Yats Restaurant and Wine Bar is the only one to receive this prestigious international award. This restaurant in Clark Pampanga is already well known as one of the best restaurants in the Philippines. With this award, this fine dining establishment puts Philippines, Clark Pampanga on the map of the international dining scene.
Getting to this fine dining restaurant of Angeles City Clark Freeport Zone Pampanga Philippines
How to get to this fine-dining restaurant in Clark Philippines? Once you get to Clark Freeport, go straight until you hit Mimosa. After you enter Mimosa, stay on the left on Mimosa Drive, go past the Holiday Inn and Yats Restaurant (green top, independent 1-storey structure) is on your left. Just past the Yats Restaurant is the London Pub.
Yats Leisure Philippines is a Hong Kong based company which owns and operates several establishments in Clark Pampanga. For more information about Yats, please log on to http://www.YatsLeisure.com
Click here to sign up to be a friend of Yats Wine Cellars to keep abreast of what's happening in the wine scene in Philippines.
Besides good and impressive restaurants to wine and dine near Manila, Subic or in Angeles City Pampanga, Clark Philippines, those requiring assistance for hotel and resort bookings in Clark, Pampanga, Philippines may log on to http://www.HotelClarkPhilippines.com for more information and reservations.

Clark Pampanga is not only frequently visited for its good restaurants and fine dining establishments, it is also a highly recommended wedding destination especially for couples looking for outdoor garden reception venues and beach weddings. For assistance and information on wedding venues and how to organize a wedding reception, log on to http://www.PhilippinesWeddingVenue.com
Those visitors who plan to relax and unwind in Angeles City, Subic, Pampanga, Clark Philippines might make an effort to book a room at the famous beach and lake resort Clearwater Resort & Country Club. This famous hotel in Clark Pampanga is frequently visited by families with children looking for a good place in Clark to see, a good holiday destination for the family to relax and unwind in the beautiful outdoor facilities. For more information, log on to www.ClearwaterPhilippines.com
For information about working, living, doing business or finding a job in the Philippines, log on to http://www.yilp.com
You can skip to the end and leave a response. Pinging is currently not allowed.