GREAT PINOT NOIR RED WINE OF BURGUNDY
More and more wine lovers have become enamored with the wines of Burgundy in addition to their Bordeaux. Made completely from Pinot Noir, the red wines of Burgundy are uniquely charming. They are wines of all occasions, equally attractive over a nice meal or sipped and savored on their own while relaxing in your cozy arm chair at home. The depth of flavor with layered complexity keep drawing you closer and closer until it becomes virtually impossible to put a cork back into the bottle. Some describe them simply as "moreish".
While Bordeaux is seen everywhere that sells wine and liquor, venerable Burgundy is not so ubiquitous. And don't be shocked by their prices. Burgundy is a much smaller region. Supply is tiny while demand keeps growing as wine drinkers' palate mature and search for something deeper and more complex to keep themselves interested. Price aside, the real quest for Burgundy lovers is to find properly-aged wines. At the prices of Burgundy, it is a crime to drink them well before they reach their prime.
Clark Wine Center offers a collection Burgundy that includes seldom-seen vintage wines. Some of these bottles have been ageing peacefully in the inner cellars for over 10 years. Many of you are already into wines of Burgundy. If you are looking for more, check us out at CLARK WINE CENTER
Wine lovers in Philippines have discovered that Clark Wine Center is one of the few wine shops that offer a good selection of aged wines from Burgundy, many dating back to the 70s through to the 90s. For a long time, Burgundy had been shrouded by a cloud of misconception that these wines should be drunk young, that Pinot Noir with its thin skins lack the structure for the long haul. Anyone who have tasted a 1969 Richebourg will tell you how ridiculous that sound. In fact, most Burgundy wines (red and yes, white too) are drunk well before they are ready to show their best. Maybe this is why it is not often that Manila wine lovers come across vintage Burgundy wines, even those that are a mere 15 years old. But for those who bother to make that short and comfortable drive up to Clark, this wine shop in Clark Pampanga maybe the place that you have been looking for to stock up on properly aged Burgundy wines.
---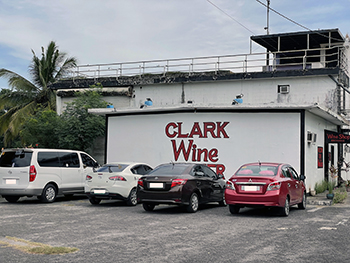 Clark Wine Center
Manuel A. Roxas Highway corner A Bonifacio Ave, Clark Freeport, Pampanga, Philippines
Opens every day 9:30am
http://www.ClarkWineCenter.com
Tel: (045) 499-6200
Mobile/WhatsApp/SMS: 0977-837-9012
In Manila,
Tel: (632) 8 633-1566
Mobile/WhatsApp/SMS: 0917-5204393
---
drink less, drink better
---
You can skip to the end and leave a response. Pinging is currently not allowed.